PaperCut Hive's
here
Powerfully simple cloud-native print management software, keeping workplaces EVERYWHERE up and running, secure, and sustainable.
Is your printing out of control?
PaperCut Hive is giving small to mid-sized businesses the print oversight and control they need.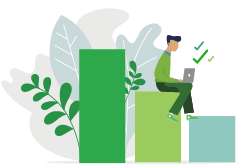 Eliminate costly waste
Giving back to the earth and your printing budget, PaperCut Hive boasts eco-friendly policies perfect for businesses wanting to reduce their environmental impact — so you can reduce paper waste, save on toner/ink, and make sustainable habits the status quo.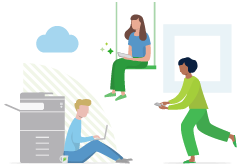 Keep your business running smoothly
Somehow, printing got complicated, for both users and SysAdmins: BYOD and smartphones, multiple operating systems, mixed printer brands... well PaperCut Hive, with its serverless printing, makes printing easy again.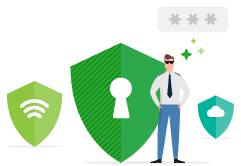 Lock down print security
Have you ever forgotten to pick up the payroll from the printer? PaperCut Hive has security features built in to keep your documents private and on-site, helping to protect your data before, during, and after printing.
The power of Edge Mesh, now in the world of print
Bringing powerful new cloud-based architecture and edge mesh technology to the world of print is opening up print management for small to medium businesses.
By using the power of connected devices already on-site, the Edge Mesh weaves a resilient, self-healing network that adapts and scales as your business grows.
Find out how it works here...
We're already crafting better printing environments for businesses around the world...
from workplaces in design, construction, real estate, and beyond.
Easy to implement, robust, and flexible.
With PaperCut Hive cloud-native print management you can quickly implement a cost-efficient, robust, and secure print infrastructure that will grow with your business.
Smart Savings
Forget having time having to manage additional costly infrastructure or worrying about new technical expertise. Begin shrinking your print bills and eliminate unnecessary print jobs with our clever print controls.
Robust
With PaperCut Hive, printing now comes with zero single points of failure. This means a more reliable, resilient, and robust infrastructure that is engineered to keep your printing up and running when you need it.
Secure
Secure your print documents before, during, and after clicking 'Print'. Choose when and where users can print, copy, and scan on your multifunction printers. Discover how easy it is to enable users to authenticate and release their documents.

We've been innovating for over 20 years.
Loved by customers across 195+ countries
PaperCut is the one and only software for a printing solution for your company/business! If you want to keep track of all your printing jobs it's a must have.
Platzhalter
It's a huge time saver. It does all the accounting for me. It provides easy access to printing from your desktop.
Wall Templeton Attorneys
A combination of managed devices and PaperCut's print management software, reduced the cost of printing by 18 per cent in the first 12 months and a further $1000 a month in the following year.
Bakers Delight
More than software
PaperCut might've started out small, but today, we're an unstoppable force over 200-strong crafting better environments every day.
115M
Smiling users
77K
Happy organizations
280K
Trees saved
195+
Countries
Want to get going?
Of course you do!
One of our customer care team members will get in touch to work out the best way to introduce powerfully simple print management into your organization.